St. Herman, while he lived on earth, was a simple monk who came from his beloved Valaam Monastery in Russia to the shores of Alaska in the year 1794.
In the previous year, Metropolitan Gabriel of St. Petersburg asked Abbot Nazarius of Valaam to gather a small group of monks to form a missionary team that would travel across Russia and Siberia to Alaska (at that time a Russian possession) to bring the Gospel of Christ to the native people. Those monks were Archimandrite Joasaph, Hieromonks Juvenaly, Macarius, Athanasius, Stephen and Nectarius, Hierodeacons Nectarius and Stephen, and Monks Joasaph and Herman. This trek over land and water took more than a year (the longest recorded single missionary journey in the history of the church)!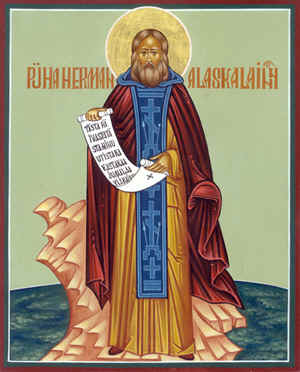 Upon reaching the end of their journey they arrived at Kodiak Island aboard the ship Three Hierarchs on September 24, 1794. Immediately, the monks began to fan out across Alaska, while St. Herman remained at the home base in Kodiak at the newly built Holy Resurrection Church to administer the overall mission and newly established school. The mission was a thriving one, received with great enthusiasm by most of the native people and resulting in thousands of Baptisms. Schools were started, churches built, many sacramental marriages were performed; all through the grace-filled efforts of 10 monks who labored in the midst of harsh and primitive conditions.
Often they did not enjoy the support of the Russian American Company, which was the local Russian authority in the area. Alexander Baranov was in charge of the company and proved to be a tyrannical and self-serving leader who considered the natives to be little more than slave laborers. Father Herman and the other monks labored mightily to protect them and intercede on their behalf with the higher authorities in Russia.
After about 15 years St. Herman moved to Spruce Island, which is a small densely wooded island about 1 mile off the coast of Kodiak, to pursue a more hermit-like life. He brought his whole monastic spiritual formation, rich experience and Orthodox inheritance to bear upon this new life. He built a church and a cell, planted a garden and in a short time started an orphanage and school for the people on the island.
With burning love and compassion he began to deposit within the hearts of all who came, something of the wondrous Christian treasure that had been entrusted to him. He labored for the most part alone at this stage of his life, pressing forward with great patience and humility. He chanted the church services, contemplated the Scripture, the writings of the Philokalia and other writings of the Saints which he had brought to the New World and pursued an intense life of interior prayer.
O Blessed Father Herman of Alaska, North Star of Christ's Holy Church.
The light of your holy life and great deeds guides those who follow the Orthodox way.
Together we lift high the Holy Cross you planted firmly in America.
Let all behold and glorify Jesus Christ, singing His Holy Resurrection.
— Troparion to St. Herman, Tone 4
He was once asked, "How do you live alone in the forest, Fr. Herman, don't you become bored and lonely?" He replied, "No! I am not alone here. God is here, as God is everywhere. Holy angels are here. Can one become bored with them? With whom is converse better and more pleasant, with men or with angels? Of course, with angels!"
Much more could be said about the life and miracles of St. Herman, both while he lived on earth and after his repose on November 15, 1836, but they will not fit into this short Hagiographical sketch. He foresaw the time of his earthly departure, and when the time came, he was surrounded by his beloved orphans and spiritual children who were reading the Acts of the Apostles by his bedside. At that moment they recorded that his face suddenly began to shine and the cell was filled with a divine fragrance and they knew that their elder was dead.
That same evening, others in the village of Katani on Afognak Island recorded that they saw an unusually bright column of light rising in the air above Spruce Island. The Creole Gerasim Vologdin said, "It looks as though Fr. Herman has left us" and they all began to pray to God.
On March 11, 1969, the Holy Synod of Bishops of the Orthodox Church in America proclaimed that Fr. Herman would be glorified as a Saint for having faithfully toiled in the "spiritual work of apostolic service among the natives whom he illumined by the light of the truth of Gospel." On August 9, 1970, Bishops, Priests and faithful from the entire Orthodox world assembled at the Church of the Resurrection in Kodiak to witness the Glorification upon earth of St. Herman, the first Orthodox Saint of North America. His holy relics remain in that church to this day.
Ask almost anyone in the regions around Kodiak and many people in all parts of Alaska, even to this day, if they know of the blessed Saint of Alaska, Fr. Herman, and you will probably receive a reverent and knowing "nod of the head." Perhaps you will hear a personal story about how he has helped someone in need or inspired another upon the ancient, yet ever new heavenly path upon which he walked.
We, who now strive to walk upon this same path two hundred years later, give thanks to God "who is wondrous in His Saints," and who allowed such a one to walk in our midst.
Holy St. Herman, pray to God for us!
If you wish to know more about the life of St. Herman, please refer to the following:
Portraits of American Saints, Compiled & edited by Archpriest George Gray, OCA Diocese of the West
Little Russian Philokalia, Vol. III, St. Herman, St. Herman Press